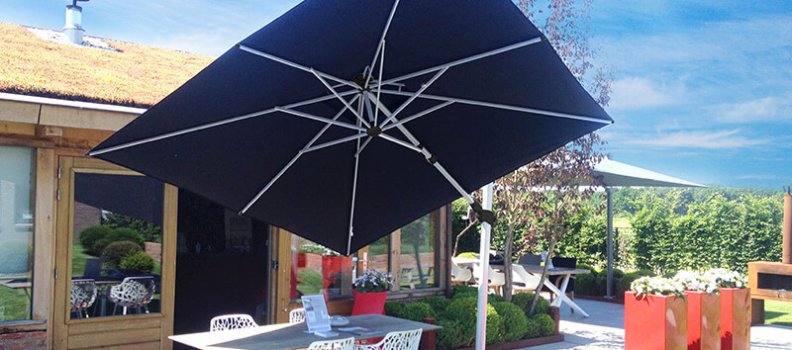 Wake your parasol from its hibernation in 3 steps
When an animal hibernates, it is in a prolonged state of low body temperature. This can last days or even weeks. This allows the animal to survive during winter, without the need to spend energy on searching for food, which is very scarce at that time. By taking a nap, they retain their energy. Convenient, because they are good as new in spring and go into the summer season fit (and hungry).
Your parasol has likely been stored safe and cold in its included protective cover for a few months now. Fortunately, the sun has occasionally come out in the past few days. That means the outdoor season is coming again!
No coat
The first step is not that exciting, but certainly not unimportant. Remove the protective cover from your parasol and check it carefully. The covers are exposed to all weather conditions 24 hours a day, which any product would suffer from. Acid rain and strong gusts of wind may cause damage to a protective cover. So to keep your parasol in optimal condition, it is important to replace the cover in time. This way, you avoid having the fabric of your parasol damaged, meaning it remains good as new for many more years.
Spring cleaning
It is possible to clean the canvas of your parasol yourself or have it cleaned. If you want to do so yourself, it is best to clean the canvas of your parasol with cold water (optionally under high pressure and from a suitable distance), with a brush. We usually do not recommend washing in the washing machine. Given the size of the canvas, it does not fit into a washing machine properly, and soap and water cannot reach all parts of the canvas to get it clean. Once you have cleaned the canvas, then directly attach it back to the frame of the parasol, so that it can dry. Should the canvas be heavily soiled, you can also order a new canvas for your parasol, making it good as new again. We usually recommend cleaning the canvas with lukewarm water and neutral soap. If you cannot get the canvas clean with the above method, you can wash it. Take into account that this also washes off the coating that makes the canvas water-repellent and dirt-repellent. Optionally, you can order a special impregnating agent in our web shop; you can find this item here. Wash the canvas at a maximum of 40 degrees to prevent shrinkage.
Stretch your legs
If you get back into the gym after a long time, a warm-up is important for maintaining your muscles and joints. It works more or less the same way for our shade solutions. It may be that after a few months of idling, your parasol is a bit harder to open than when you purchased it. Fortunately, this can easily be remedied by using silicone spray. Please contact us in advance so that our technician can explain to you where you should and should not apply this spray. Then you can open the parasol and enjoy the coming season without any worry.