Especially companies dealing in hospitality like to have their company name or logo printed on their sunshade, to increase the recognizability of their patio. Printing on a canvas takes quite some effort, that's why we'll gladly do it for you. We work with the best printers who work carefully and pay close attention to get a beautiful result that fits with your style.
Solero uses two methods to print a logo or text on canvas; plotting and screen printing. Plotting means that the logo is cut from foil and pressed onto the canvas with heat. This is done under high temperatures so that the glue of the foil binds properly to the canvas. Because of the immense heat on the material, a printer can't heat the same piece of cloth more than 3 or 4 times, otherwise the canvas would shrink.
In those cases, screen printing offers a solution, because it doesn't use any heat.
With screen printing a screen is put over a frame while the ink is pressed through the open parts of the screen. The screen is based on a template of the logo that needs to be used on the canvas.
Both methods are used regularly by us, but in the long term a logo that's been screen printed remains brighter and better. Each method has it's pros and cons, so we've put them side by side for you below.
The advantages of plotting
– Quick turnaround of 1 week
– Cheaper in smaller quantities
– Print is colorfast
– Metallic colors an option
The disadvantages of plotting
– Limited choice of colors
– A logo with many colors is not possible (>3 colors)
– Plotting is more sensitive to UV-radiation than screen printing
The advantages of screen printing
– A great price when ordering many (>40 logos)
– All colors available
– Printing is colorfast
The disadvantages of screen printing
– It's very costly with smaller quantities
– Delivery time is around 2 to 3 weeks
– Impossible to do large prints
Every logo is different, that is why it is difficult for us to determine the cost without seeing the logo. This is why we will always ask you to send the logo to us in EPS-format, so that we can ask for a print concept at the printers, and can make an accurate quotation for you. We are a good partner for bigger projects and starting from a 100 pcs the prices become much more favorable, but a bigger project does mean a longer delivery time. Below you can find an example of a print concept.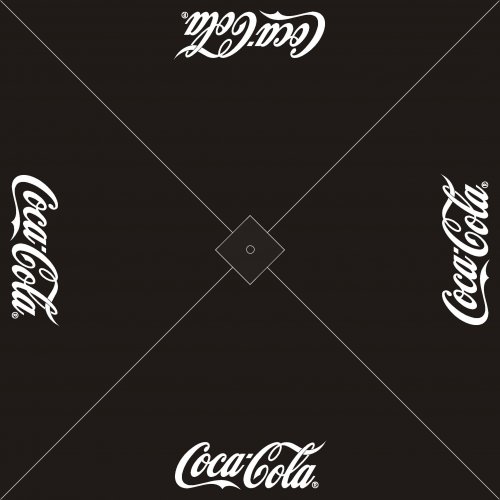 As soon as you agree with the price and the proof we'll get to work for you and will take the canvas to the printer. There they'll cut the logo, place it, tape it and press it. As soon as the canvas is ready it'll be sent to our warehouse, where we'll attach it to the frame and repackage the entire sunshade for you.
Size for plotting
Price for each logo in 1 color
in € excl. TAX
Price for each logo in 1 color
in € incl. TAX
50×17 cm
32,50
39,33
70×17 cm
40,00
48,40
80×17 cm
45,00
54,45
100×17 cm
50,00
60,50
130×17 cm
60.00
72.60
50×30 cm
44.00
53.24
80×30 cm
62.00
75.02
100×30 cm
73.50
88.94
130×30 cm
90.00
108.90
50×50 cm
63.50
76.84
80×50 cm
93.00
112.53
100×50 cm
112.50
136.13
130×50 cm
141.00
170.61
60×60 cm
85.00
102.85
*price per logo in one color with screen printing
*prices are an indication and can deviate
Size for screen printing
Price for each logo in 1 color
in € excl. TAX
Price for each logo in 1 color
in € incl. TAX
Start-up costs
75,00 for each color
90,75 for each color
40×50 cm >10 pcs
40,00
48,40
40×50 cm >25 pcs
38,00
45,98
40×50 cm >50 pcs
36,00
43,56
40×50 cm >100 pcs
35,00
42,35
50×70 cm > 10 pcs
48,00
58,08
50×70 cm > 25 pcs
46,00
55,66
50×70 cm > 50 pcs
44,00
53,24
50×70 cm > 100 pcs
43,00
52,03
*price per logo in one color with screen printing
*prices are an indication and can deviate