Your balcony, a wonderful place as soon as the sun comes out. Unfortunately, it can also get very hot very quickly, both outside and inside your home. Have you ever thought about a balcony parasol?
A balcony parasol provides a lot of welcome refreshment on the warmer days. A parasol that is not too big and practical in use is often a must.
Tilt
If you live on one floor, there is a good chance that, at the beginning or end of the day, the sun will shine under the canvas. It is therefore advisable to opt for a tiltable model. With this, you can bend the canvas in such a way that you can easily block the low sun from your balcony and your living room. In this way, the space on your balcony is optimally used and you have enough space to enjoy your outdoors.
Wind
On average, a balcony can be slightly windier than in a sheltered backyard. You are undoubtedly familiar with the powerful gusts of wind, it is important to pay attention to this on your balcony. That is why we have equipped most of our parasols with a wind roof. The air can escape through the open top so that the parasol remains more stable. You will, of course, stay dry underneath the canvas, as the layers overlap so the rain does not stand a chance. This roof also functions as ventilation; warm air rises up in the summer and leaves the parasol. This keeps your head nice and cool.
Convenience
You may not have too much room to manoeuvre on your balcony, so easy opening and closing of the parasol is very important. The Solero Teatro is a round parasol that can be opened and closed by means of a winch. Vaticano works in the same way but is also tiltable. In the tilted position, the parasol is more prone to wind, keep this in mind when purchasing your balcony parasol. The Prostor P7 Pro can also be a nice addition to your terrace, this is the only small wall parasol in our programme, which can be rotated. The rotatable pole gives you the opportunity to move the shade over your balcony during the day. With this P7 balcony parasol, it is important to sufficiently take the available height in your shaded area into account. We are happy to look at the possibilities with you so that control remains simple.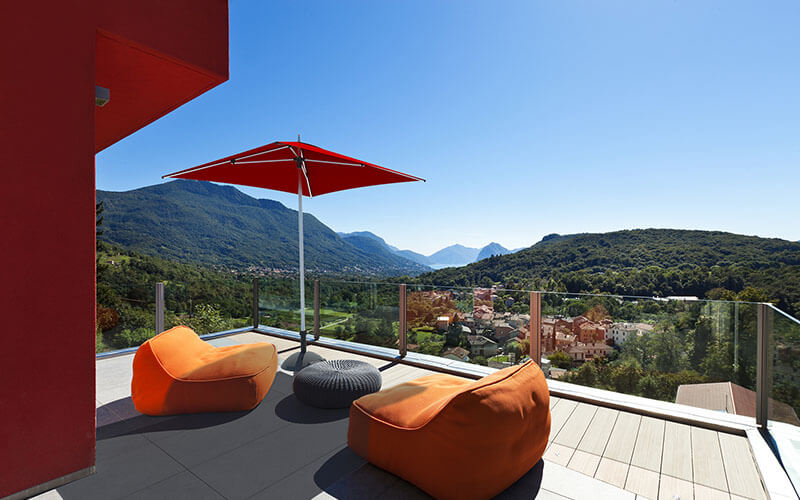 Sturdy base

A smaller parasol on a storey requires a heavier base. In our collection, there is a choice between different materials and weights. Movability of the base can be very convenient; here, too, various options are conceivable.
Have we made you curious about our range? Feel free to contact us for honest advice without any strings attached.