State of the art parasols for years to come
Welcome on the Solero parasols website, where you'll find all information about parasols you'll ever need. We deliver and install parasols in all sorts and sizes for both gardens and hospitality industry. With or without lighting. It doesn't matter which parasol fits your needs, a Solero will always guarantee years of carefree pleasure.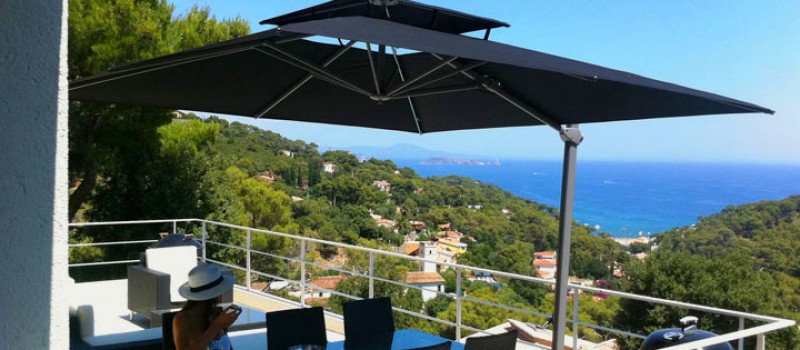 Relaxing in – or just out of – the sun is obviously your first added value of a Solero parasol, although it also provides shelter from summer rain. Simply click on the lighting or heating of your Solero parasol when the sun sets. As the parasol cloth will preserve the heat for quite some time, you'll optimally enjoy those long summer evenings.
Garden parasols
All Solero garden parasols are offered through selected dealers and our new web shop. You're always welcome at their locations to see, touch and test our parasols and other related products. If you're looking for specific information about parasols or want to find a dealer close to you, please visit our contact page. Can't find a dealer around? Of course you're always welcome to make an appointment and visit our showroom to experience and test all our garden parasols.
Commercial parasols
We understand your terrace has to look perfect. After all, this is where your guests will get their first impression of your hotel, café, restaurant or care facility. Solero Parasols offers in-depth expertise in delivering high-end parasols for the hospitality industry, in all sorts and sizes. Our project advisors have a great eye for details and will share their experience to support you in reinforcing your image. Of course they know all about our products. It's their role and pleasure to think along with you and turn your wishes into solutions that are fully technically validated, for every budget. Together we'll get you the best terrace in town!
All our commercial parasols are designed and selected with the upmost care and are quick and easy to handle. Solero parasols don't only bring shade and shelter. They will help your terrace become an even more comfortable and recognizable location, where your guests will want to meet each other. Several upgrades as heating and lighting will increase the welcoming atmosphere. Your return on investment is obtained quickly. By optimally using their terraces; our customers make use of every square inch. Be inspired and review our most recent projects in the photo menu on your right.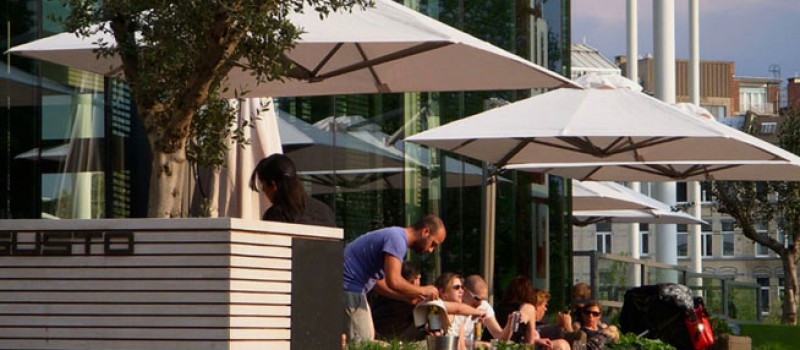 Eager to find out what Solero can add to your home or business? Call or mail us for a first advice. Of course you're also welcome to visit our showroom, where you can test all of our garden or commercial parasols. Please get in touch through our contact page.